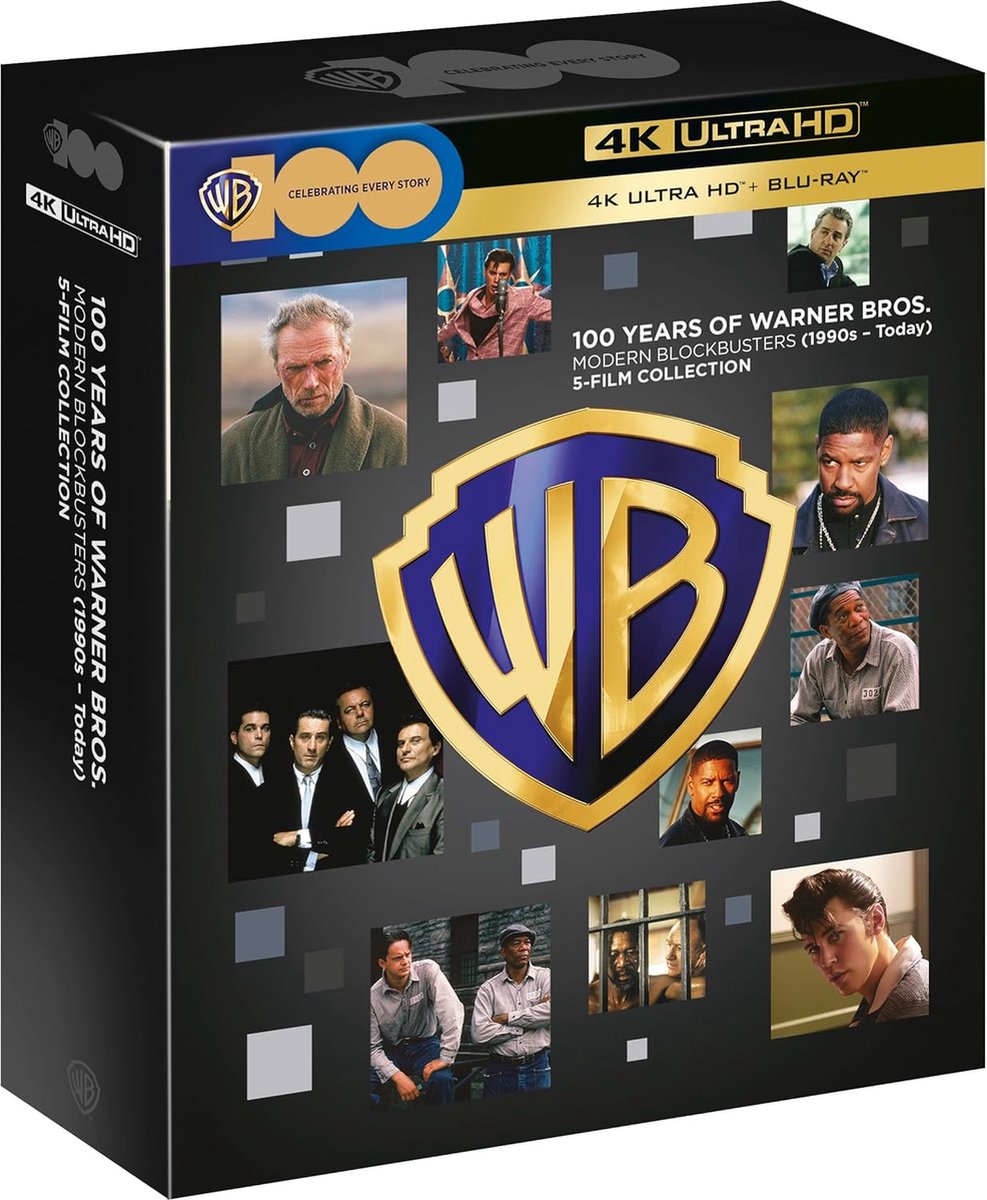 Opgelet, import met NL ondertiteling behalve op de film Elvis.
Collection of five modern classics produced by Warner Bros. 'Goodfellas' (1990) follows Italian-American Henry Hill (Ray Liotta) as he rises through the ranks of the Mafia. Upon becoming an FBI informant, Hill recalls how he got started in the Mob at a young age in the 1950s and went on to take part in the multimillion-dollar robbery of a Lufthansa vault at JFK Airport.
Hill and his partners, Jimmy Conway (Robert De Niro) and Tommy DeVito (Joe Pesci), went on to rise through the ranks of the Mafia over three decades, eventually eliminating Paul Cicero (Paul Sorvino), the neighbourhood godfather who originally took Hill under his wing. In 'Unforgiven' (1992), set in 1880s Kansas, ageing gunslinger-turned-farmer William Munny (Clint Eastwood) reluctantly agrees to come out of retirement to help old friend Ned Logan (Morgan Freeman) collect the bounty on two wanted cowboys. The men in question attacked a prostitute in a lawless town in Wyoming lorded over by the corrupt Sheriff Daggett (Gene Hackman), and if Munny and Logan want to catch them they are going to have to deal with Daggett first.
In 'The Shawshank Redemption' (1994) accountant Andy Dufresne (Tim Robbins) is sent to prison in the 1940s for the murder of his unfaithful wife and her lover despite maintaining his innocence and as he slowly comes to terms with the injustices of the corrupt prison system, he quietly inspires some of his fellow prison inmates to have a more positive outlook on life. Meanwhile, the governor of the prison discovers Dufresne's book-keeping talents and recruits him to do a spot of creative accountancy. Fellow inmate, ageing gangster 'Red' (Freeman), uses his connections to take care of Dufresne's material needs, and narrates the story of his friend's term in jail through to the late 1960s.
In 'Training Day' (2001) rookie LAPD cop Jake Hoyt (Ethan Hawke) has been newly assigned to an elite narcotics unit and is due to spend his first day on the job with veteran detective Alonzo Harris (Denzel Washington). As the day passes, and after dealing with street thugs and drug tycoons, Hoyt begins to suspect that Harris might have become corrupted by the job. When Harris then murders a drug dealer and tries to pin the crime on Hoyt, the young cop realises that he has no choice but to confront Harris himself.
Finally, 'Elvis' (2023) follows Elvis Presley (Chaydon Jay/Austin Butler) from childhood, where he encountered gospel and blues music for the first time, on his journey to becoming a rock and roll superstar. In 1955, Elvis is signed by RCA Records and hires Colonel Tom Parker (Tom Hanks) as his manager before achieving unprecedented success following the release of his debut album. Following a stint in the military to improve his controversial image, Elvis stars in a string of Hollywood movies before making a triumphant return to live performing.
-
Various