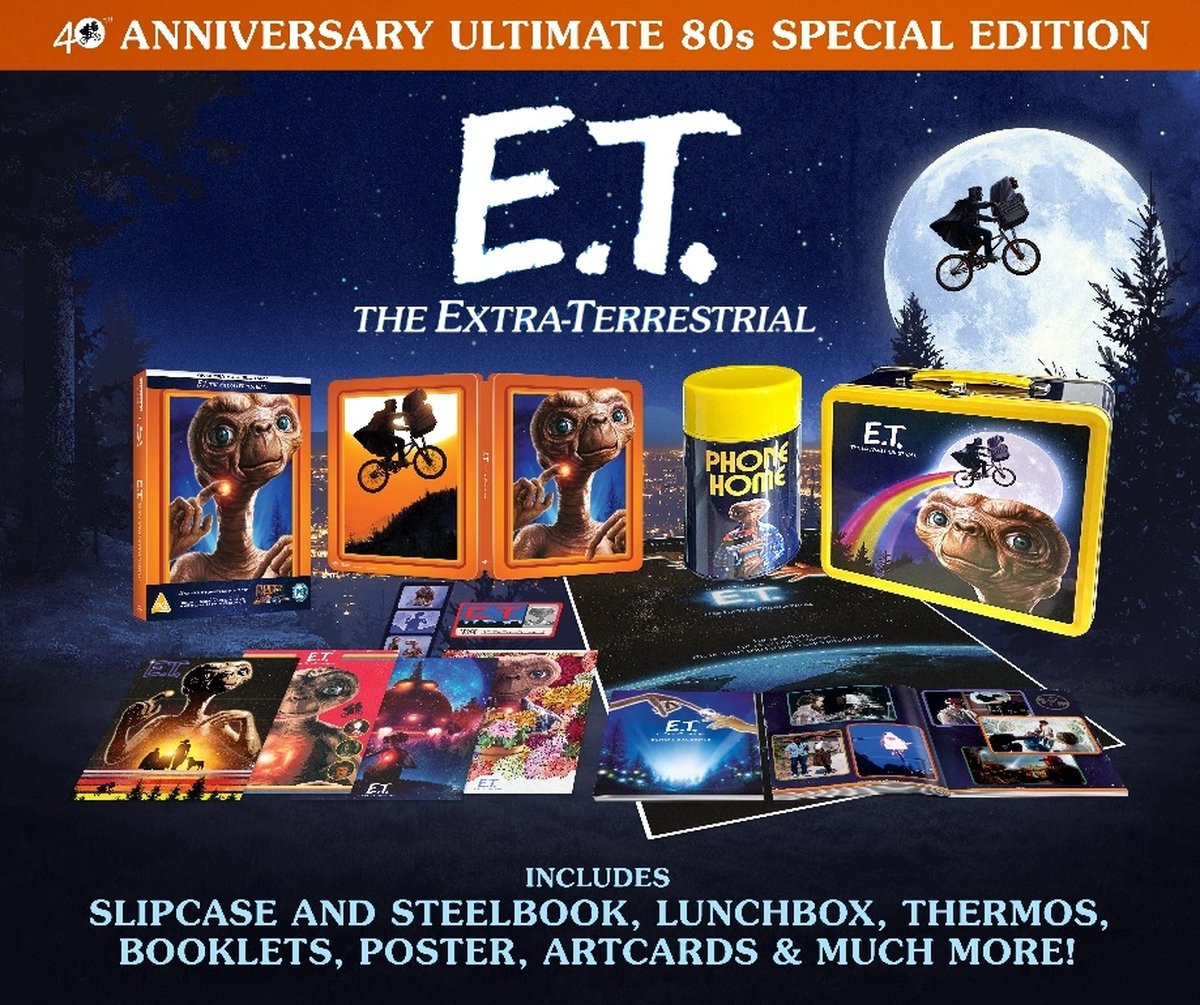 To celebrate the 40th Anniversary of E.T. The Extra-Terrestrial we are releasing the 'Ulitmate 80s Edition'. A premium release designed to create a sense of wonder and nostalgia taking superfans back in time! Strictly limited to x2000 copies worldwide.
This release includes: Retro Lunchbox & Thermos, Slipcase, Steelbook, Poster, 4 x Art cards, Bookmark, Script Excerpts booklet, Behind-the-scenes booklet & a new 4K UHD & Blu-ray disc
Over 4 hours of bonus features! This edition includes a new 4K UHD and Blu-ray disc with never-before-seen content to mark the 40th anniversary of E.T.
'40 Years of E.T. The Extra-Terrestrial' - An all-new retrospective of the film and its lasting legacy.
'TCM Classic Film Festival: An Evening with Steven Spielberg' - The acclaimed director reflects on his career and the making of E.T. 40 years later.
Relive the adventure and magic in one of the most beloved motion pictures of all-time, E.T. The Extra-Terrestrial, from Academy Award®-winning° director Steven Spielberg.
Captivating audiences of all ages, this timeless story follows the unforgettable journey of a alien and the 10-year-old boy he befriends. Join Elliot (Henry Thomas), Gertie (Drew Barrymore) and Michael (Robert MacNaughton) as they come together to help E.T. find his way back home, E.T. The Extra-Terrestrial is "one of the great American films" (Leonard Maltin) that forever belongs in the hearts and minds of audiences everywhere.
-
Steelbook, Lunchbox, Thermos, Booklets, Posters, Artcards & Much More!