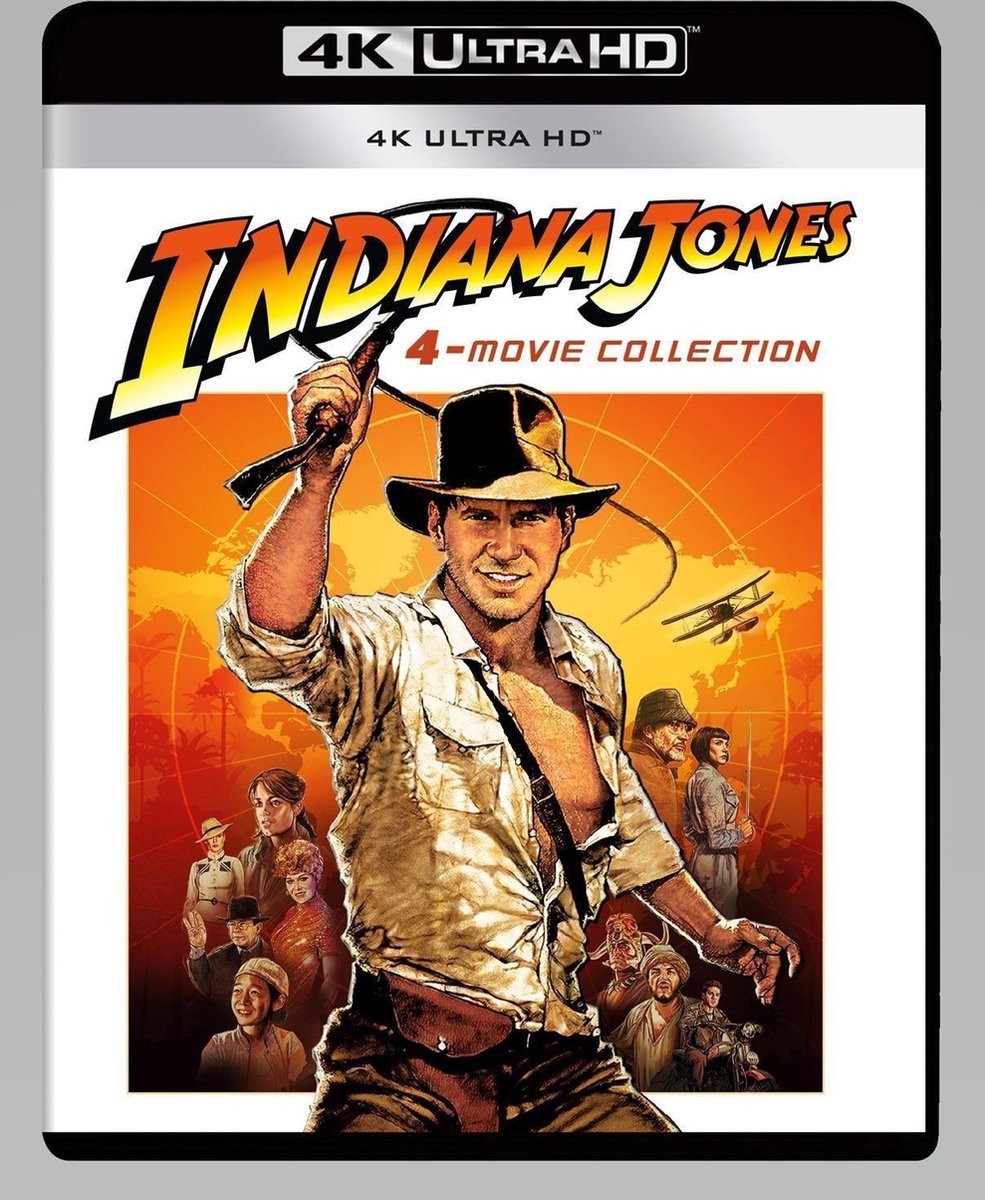 Indiana Jones And The Raiders Of The Lost Ark
Zet je schrap voor bloedstollende spanning in 'Indiana Jones and the Raiders of the Lost Ark'. Indy en zijn onstuimige ex- vriendin Marion Ravenwood moeten boobytraps zien te ontwijken, de strijd aangaan tegen nazi's en slangen bezweren tijdens hun spectaculaire zoektocht naar de mystieke Ark des Verbonds waarvoor zij de hele wereld over reizen. Beleef de ene spannende cliffhanger na de andere als je op avontuur gaat met de enige echte Indiana Jones.
Indiana Jones And The Temple Of Doom
Indy, zijn hulpje Short Round en de nachtclubzangeres Willie Scott beleven de spannende avonturen: van vliegcapriolen op grote hoogte boven de Himalaya, een zenuwslopende achtervolging in een mijnkarretje tot aan een sensationele ontsnapping uit een ondoordringbare mijn in India. Houd je stevig vast als 's werelds ultieme actieheld je meeneemt op een bloedstollende achtbaanrit vol avontuur die je gegarandeerd op het puntje van je stoel laat zitten.
Indiana Jones And The Last Crusade
Er is niets spannender dan proberen op het spoor te blijven van vader en zoon Jones in 'Indiana Jones and The Last Crusade'. Indy's aartsvijanden, de nazi's, zijn terug. Deze keer hebben ze zijn vader, professor Henry Jones Sr. ontvoerd zodat hij hen kan helpen bij hun zoektocht naar de Heilige Graal. Indy reist van Amerika naar eerst Venetië en dan naar de woestijn van het Heilige Land om zijn vader, de Graal en de wereld te redden in dit alsmaar doordenderende en actievolle avontuur waar het hele gezin dol op zal zijn.
Indiana Jones And The Kingdom Of The Crystal Skull
Nadat Indiana Jones gevangen is genomen door de Russische Sovjet agenten, is ontsnapt en een kernbom heeft overleefd, is hij weer terug op zijn oude, vertrouwde school. Helaas is daar niet alles koek en ei, want Indy wordt verdacht van verraad. De FBI verdenkt hem ervan dat hij de Russische agenten het land heeft binnengelaten. Indiana wordt ontslagen en probeert een nieuw leven te vinden in Londen, maar voor hij weg kan uit Amerika, komt de jonge, opstandige Mutt Williams hem waarschuwen, dat een oude vriend, professor Oxley gevangen is genomen, samen met de moeder van Mutt. Volgens Mutt was professor Oxley een Crystal Skull op het spoor in Peru. Zou hij die gevonden hebben? Zou hij daarom gevangen zijn genomen? Voor een vierde keer moet Indiana Jones op avontuur om Oxley, de Crystal Skull en Mutt's moeder te vinden, die overigens een oude bekende blijkt te zijn.
Extra's
On Set with Raiders of the Lost Ark (HD): From Jungle to Desert (HD), From Adventure to Legend (HD) / Making The Films: The Making of Raiders of the Lost Ark (1981), The Making of Raiders of the Lost Ark, The Making of Indiana Jones and the Temple of Doom, The Making of Indiana Jones and the Last Crusade, The Making of Indiana Jones and the Kingdom of the Crystal Skull (HD) / Behind The Scenes: The Stunts of Indiana Jones, The Sound of Indiana Jones, The Music of Indiana Jones, The Light and Magic of Indiana Jones, Raiders: The Melting Face!, The Creepy Crawlies (w/ optional pop-ups), Travel with Indiana Jones: Locations (w/ optional pop-ups), Indy's Women: The American Film Institute Tribute, Indy's Friends and Enemies, Iconic Props (HD), The Effects of Indy (HD), Adventures in Post Production (HD) / CREDITS
-
Harrison Ford