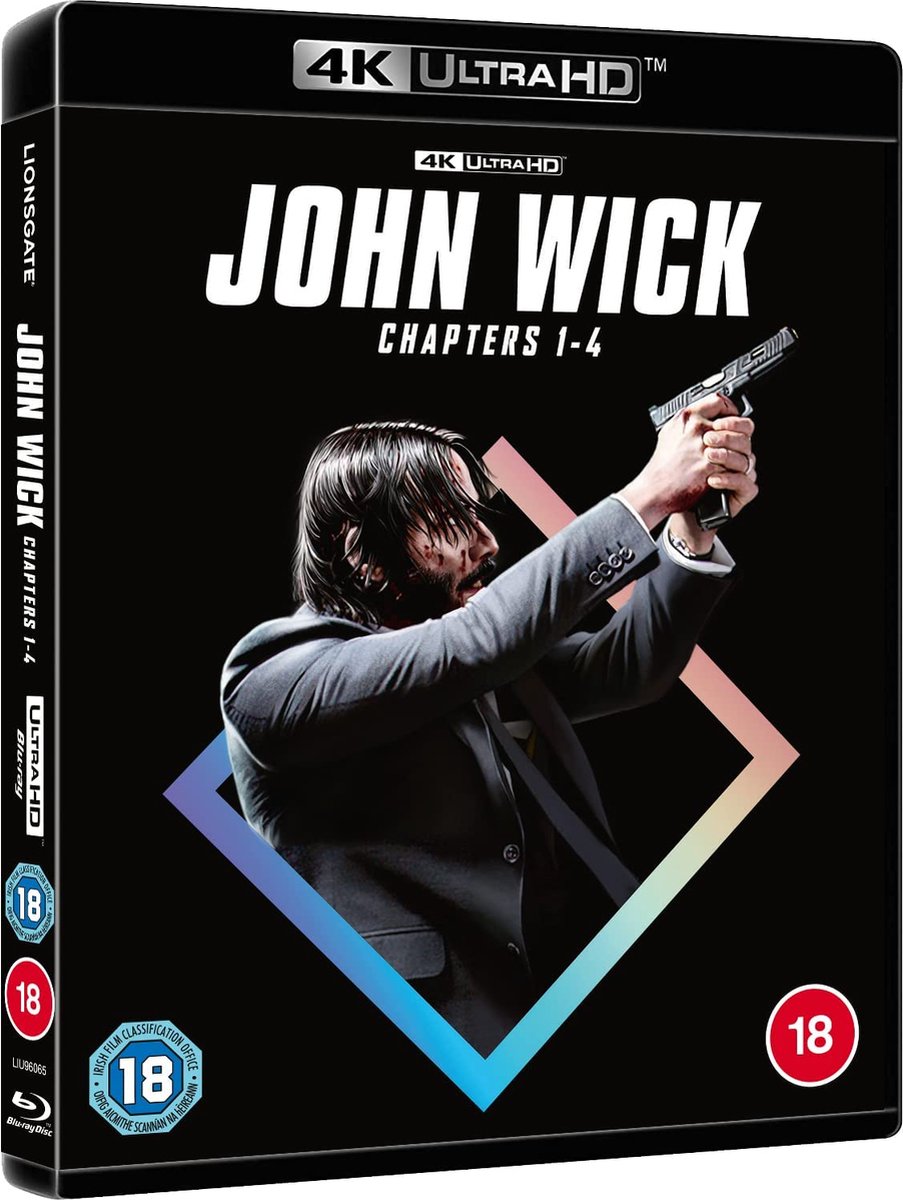 Opgelet, import zonder Nederlandse ondertiteling.
Quadruple bill of action thrillers starring Keanu Reeves as a former hitman who must return to the criminal world he left behind in order to seek revenge. In 'John Wick' (2014), after the eponymous hitman (Reeves) refuses to sell his car to Russian gang leader Iosef (Alfie Allen), the gang members break into his home and kill his dog, a gift left to him by his late wife Helen (Bridget Moynahan). It turns out that Iosef is the son of Wick's ex-boss Viggo Tarasov (Michael Nyqvist), head of the Russian mafia in New York.
As Wick attempts to track down and kill Iosef he encounters assassin Ms. Perkins (Adrianne Palicki), who is working for Viggo, and eventually faces his former boss in the ultimate showdown. In 'John Wick: Chapter 2' (2017) Wick is again coaxed out of retirement when Italian crime boss Santino D'Antonio (Riccardo Scamarcio) calls in a debt and persuades the former hitman to kill his sister, Gianna (Claudia Gerini), in Rome.
However, the tables are soon turned when Santino puts out a hit on Wick, a bounty his fellow assassins all over the world are only too happy to collect. In 'John Wick: Chapter 3 - Parabellum' (2019), after killing a fellow assassin on the grounds of the Continental Hotel, John Wick is declared excommunicado from the league of assassins and a 14-million-dollar bounty is placed on his head. Immediately targeted by every assassin in New York, he is forced to flee the city and seeks refuge with former mentor The Director (Anjelica Huston) before going in search of the head of the High Table to overturn his exiled status.
Finally, 'John Wick: Chapter 4' (2023) finds Wick hoping to regain his freedom from the High Table. He sets out on a vengeful mission and incurs the wrath of the Marquis de Gramont (Bill Skarsgård), who dispatches blind assassin Caine (Donnie Yen) to kill his old friend Mr Wick. Realising he will forever be hunted by the High Table, John challenges the Marquis to a duel to the death in a bid to finally fulfil his obligation to the council of crime lords.
The cast also includes Laurence Fishburne, Lance Reddick and Ian McShane.
-
Keanu Reeves