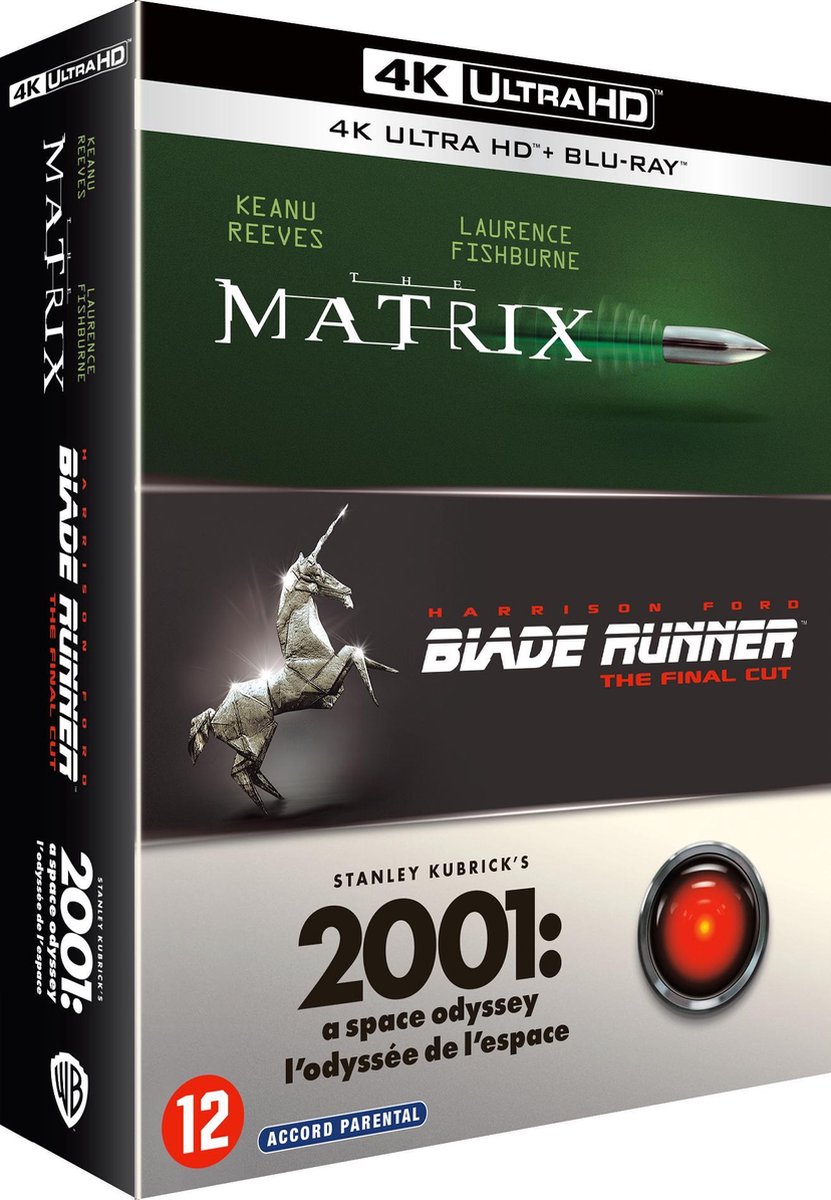 Voor de echte sciencefiction-fans is er nu de ScienceFiction Collection-boxset met 3 klassieke sciencefiction films: The Matrix, Blade Runner: The Final Cut en 2001: A Space Odyssey.
The Matrix
De computerhacker Neo (Keanu Reeves) komt er achter dat het leven op aarde niets meer is dan een computersimulatie, opgezet door machines om de mensheid in bedwang te houden. Morpheus, een vrijheidsstrijder, gelooft dat Neo "de Uitverkorene" is, diegene waarvan voorspeld is dat hij de oorlog tussen de mensheid en de machines tot een eind kan brengen.
Blade Runner: The Final Cut
Een visueel spektakel, adembenemende actie en een profetisch verhaal: Blade Runner in de director's cut van Ridley Scott verrast iedereen, met verlengde scènes en special effects. Harrison Ford als detective Rick Deckard vertolkt een iconische rol in deze stijlvolle film noir.
2001: A Space Odyssey
2001: A Space Odyssey is Stanley Kubricks schitterende, met een Oscar® bekroonde, prestatie. Een meeslepend drama van mens tegen machine en een verbijsterende versmelting van muziek en beweging. Kubrick (die samen met Arthur C. Clarke het scenario schreef) brengt eerst een bezoek aan onze prehistorische aap-voorouders, maakt vervolgens een sprong van een paar duizend jaar (via een van de meest verbijsterende jump cuts uit de geschiedenis) naar de gekoloniseerde ruimte en schiet astronaut Bowman (Keir Dullea) uiteindelijk de onbekende gebieden van de ruimte in, misschien wel op weg naar onsterfelijkheid.
-
Keanu Reeves
Laurence Fishburne
Carrie-Anne Moss