Resoluties: Full HD, Quad HD, 4K
Jarenlang zijn Full HD monitoren dé standaard geweest als monitor om op te gamen. Echter beeldschermen met hogere resoluties worden steeds populairder. Met name Quad HD (4x HD ready of 1440p) is een populair resolutie. Echter, als je voor een volwaardige 4K monitor kiest dan biedt dat maarliefst 4x de resolutie van Full HD.
Refreshrate
Voor gaming is het prettig om een monitor uit te kiezen met een zo hoog mogelijke refresh rate. Een hoge verversingssnelheid zorgt voor een optimale game ervaring. Full HD & Quad HD gaming monitoren zijn vaak uitgerust met een refreshrate van 144Hz of nog hoger.
De heilige graal – 4K & 144Hz
Sinds 2018 zijn er voor het eerst 4K monitoren met 144Hz te vinden.
In 2020 zijn deze modellen voor onder de €1.000,- te vinden. De beschikbaarheid is helaas beperkt. Let op: deze versies hebben vaak een beperkte HDR ondersteuning bijvoorbeeld HDR400.
Informatieve video's
Monitoren 4K én hoge refresh rate 120Hz / 144Hz / 160Hz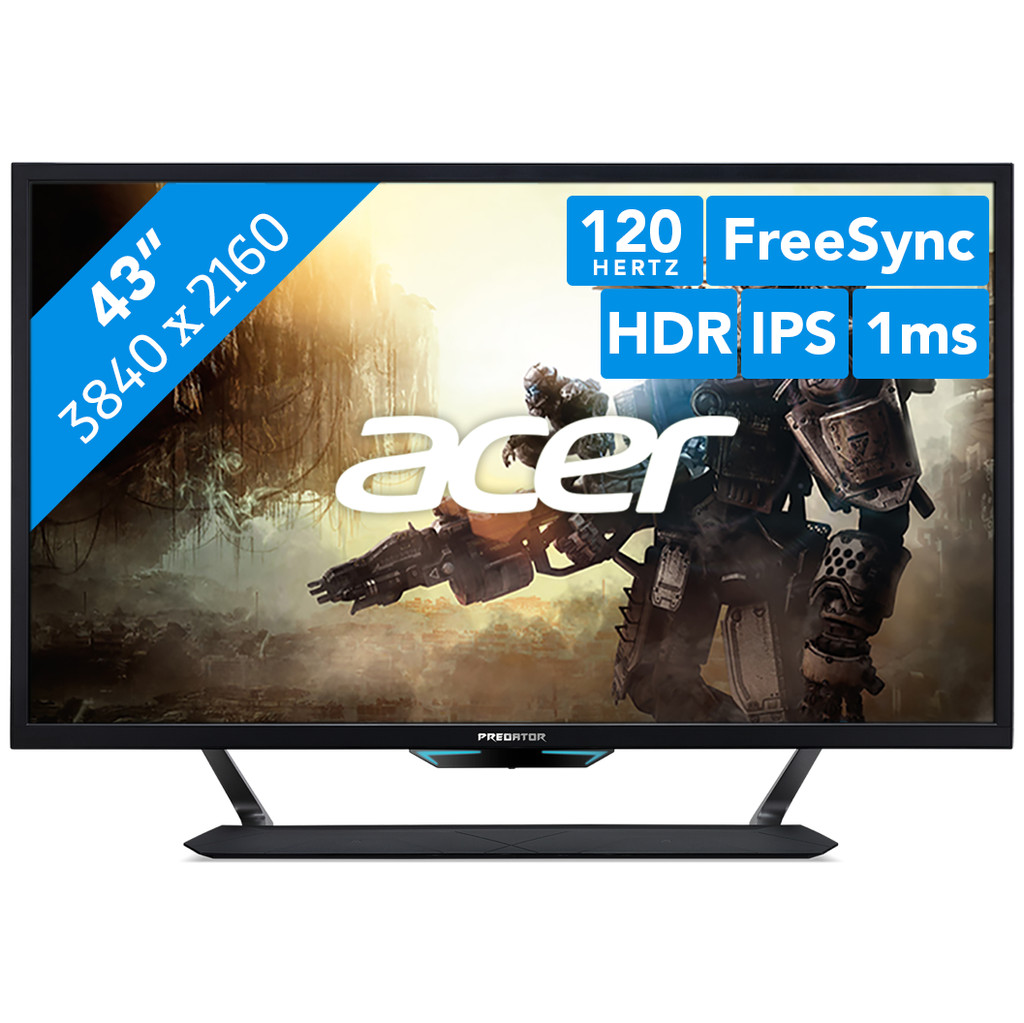 EUR € 1359.00
43 inch 3840 x 2160 resolutie DisplayPort HDMI USB C USB 3.0
Voor 23.59 uur besteld, morgen in huis.
Verminderen van lag: G-Sync of FreeSync
Sommige monitoren zijn uitgerust met G-Sync of FreeSync, dit zijn technieken waarmee de vertraging in de ververssingssnelheid wordt geminimaliseerd. Bij competitief gamen is dit cruciaal.
Het is hierbij van belang de techniek/monitor te kiezen die past bij je 3D kaart. G-Sync werkt met Nvidia kaarten en FreeSync met AMD kaarten. Zorg ook voor een DisplayPort aansluiting als je van G-Sync gebruik wilt maken.
G-Sync Ultimate
Dit nieuwe label is geïntroduceerd om de maximale ondersteuning van HDR aspecten aan te duiden. Zo bieden monitoren die hieraan voldoen:
1,000 nits maximale helderheid
Ultra-low latency
Multi-zone backlights
DCI-P3 color gamut coverage
Zie ook